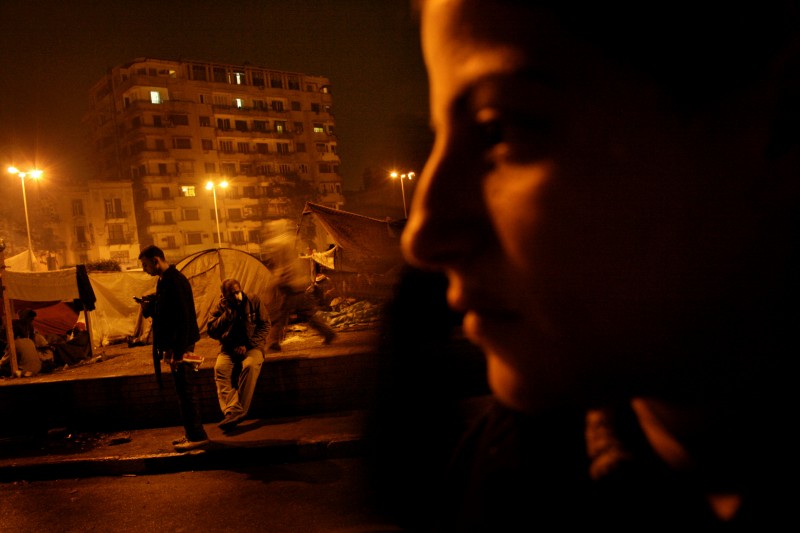 © 2011 Laura El-Tantawy/ALL RIGHTS RESERVED
I'm sure many of us are following the developments in Egypt. We're inundated with thousands of images chronicling the anti-goverment protests. Most of them being moved by the wire services are just what you would expect. Violent clashes. Danger. Drama.
There is another side to these protests. A more human side. And some photographers are doing their darnedest to chronicle that, as well.
I ran across some of these image at burn. magazine, an on-line photography site curated by great Magnum and National Geographic photographer David Alan Harvey. The photographs are by Egyptian photographer Laura El-Tantawy, who also writes about her experiences while covering the protests.
Visually, these photographs are haunting and atmospheric. We get to see the faces and begin to understand some of the participants in a much more intimate way than the rock'em sock'em wire photos allow.
As El-Tantawy says:
"Tahrir (Liberation) Square has become a microcosm of Egyptian society. The protesters here represent all classes of people, from the art world, politicians, engineers, lawyers, bankers, school teachers, government employees, construction workers, plumbers. They all came here to fight for something."
The best photojournalism not only addresses the "what," but also the "who" and the "why." The best photographs are the ones that move us. The ones that appeal to our humanity, whether the subjects are halfway across the world or right here in our own backyards.
Take a look. Tell me what you think. What images have you viewed from Egypt, and which ones stick with you? Why?
Link: Cairo: Quest for Liberation